Well, looks like a new Bachelorette wedding is on the way! Season 10 of the Bachelorette wrapped last week with a very happy ending, but perhaps with a (slight) tarnish to the gilt wrapping on the fairytale (read on). As most of you know, Bachelorette Andi Dorfman, former Assistant DA of Fulton County, Georgia, is engaged to final rose winner Josh Murray, former pro baseball player.
So far, Josh seems like a nice guy—he's funny, sweet, and affectionate. I am wondering if he has a slightly stubborn or possessive edge but I guess we will find out. (I'm also not a big fan of the ugly winter scarf they had him trussed up in on one of the episodes, but that's a fashion post…) . The man knows how to choose a ring: Andi was gifted with a truly stunning Neil Lane rock. This is some serious 72,000-dollar bling, consisting of a 3 carat oval diamond surrounded by smaller diamonds, in a handmade platinum setting. There are rumours that Andi actually chose it herself (as many women do); if that's the case, then way to go, Andi.

Sparks flew at their first meeting, with Josh rather adorably tongue-tied and nervous. The couple had obvious chemistry on their follow-up dates, thought Andi kept declaring her doubts about his being too much her former type, and too good to be true. Guess she got over it, because during the big finale the couple declared their love and got engaged.
The slight tarnish came during the taping of the "After the Final Rose" episode. Things got a tad tense when slighted contestant Nick Viall confronted Andi about why she had dumped him, and when he mentioned (oops? no, probably more like sour grapes) that he and Andi had been— ahem—intimately involved just days before her engagement. Tacky, Nick: a gentleman never tells. We will leave Andi's decision making abilities alone (for now).
At any rate, it didn't seem to deter Andi and Josh, who are still gushing over each other in interviews, and posting adorable snaps on the internet. In the September issue of Jezebel magazine, Andi states that Josh is "the last person I want to talk to at night, the first person I want to talk to in the morning," and calls him "her partner through it all."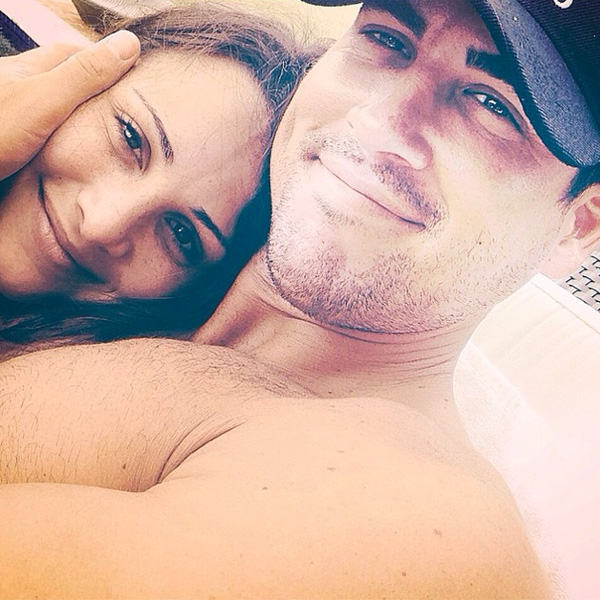 In an Instragram photo released August 7, courtesy of Andi Dorfman, the couple are shown snuggling in the Dominican Republic on May 10,  the day after they got engaged.
Now that the Bachelorette has landed her dream man, the couple is entering wedding planning mode. Their wedding is apparently set for spring 2015. I'm thinking it will be televised (and paid for, which means huge wedding budget, which means—with hope—yippee, gorgeous wedding flowers). In the same interview with Jezebel magazine, however, Andi claims she was "never the girl that dreamt of a wedding."  So she will probably be in the market for a good wedding planner to help her pull off the whole event.
What clues do we have thus far, as to the wedding?
Andi stated that she doesn't want to go too glam for her dress.  "Definitely a simple dress," she claims. "I don't want my wedding dress to be bling-bling." So apparently the sparkling gowns she wore on the show are off the roster. She also mentions that the couple's mutual hometown of Atlanta might be the venue. And she mentioned how she might love to revisit Europe, due to the couple's many romantic dates there during filming.
So…what do we think for the flowers? Considering Andi's apparently low-bling approach to the dress, she will probably want to opt for flowers that are classic, elegant, and simple. But if the wedding is in Atlanta, she might allow for some traditional Southern Belle. And then there is her love of Europe…
Our BunchesDirect suggestions? We'd love to see pink and cream flowers that include some roses, dahlias, and white hydrangeas, with a modern but not-too-modern aspect, to reflect Andi's southern charm. Gorgeous, understated elegance that isn't over the top for sporty Josh or practical Andi. What do you think?
Also, do you like Josh and Andi as a couple, and do you think they have staying power?
Feel free to comment! And for added advice, opinions, or questions, you can write me directly at [email protected] I always love hearing from you!