Autumn has arrived! In many areas there is a nip in the air and growing color in the tree leaves. If your fall wedding is coming up fast and you are hoping to make your own wedding centerpieces and aisle decorations, don't despair! We have some great DIY tips and inspiration for your fall wedding that are sure to make a big impact on your guests—but not your wallet! Most of the ideas require a quick trip to the local craft store, a visit to the farmer's market, or simply a refreshing walk in the woods.
Here are some great ways to incorporate some fabulous fall into your wedding flowers:
1. Choose the right container. If you are going with metal vases or containers for your fall wedding centerpieces, you may want to stick to the warmer finishes such as bronze or gold. Woven baskets, containers covered with sticks (use a good glue gun), or mason jars are another good choice. If you are using glass vases, you can always fill them with autumn elements (see below) such as mini gourds. And if you don't mind some added work or have many helpers, you can always use a real pumpkin as your container.
For another cute idea, the container and flowers become one and the same. Choose your flower of choice (asters or mums are hardy and come in great fall colors), and cut off the stems. Using a glue gun, glue the blooms to a pumpkin (a faux pumpkin is a safer choice if you are doing this ahead). The result: a memorable decorative touch that is sure to get talked about!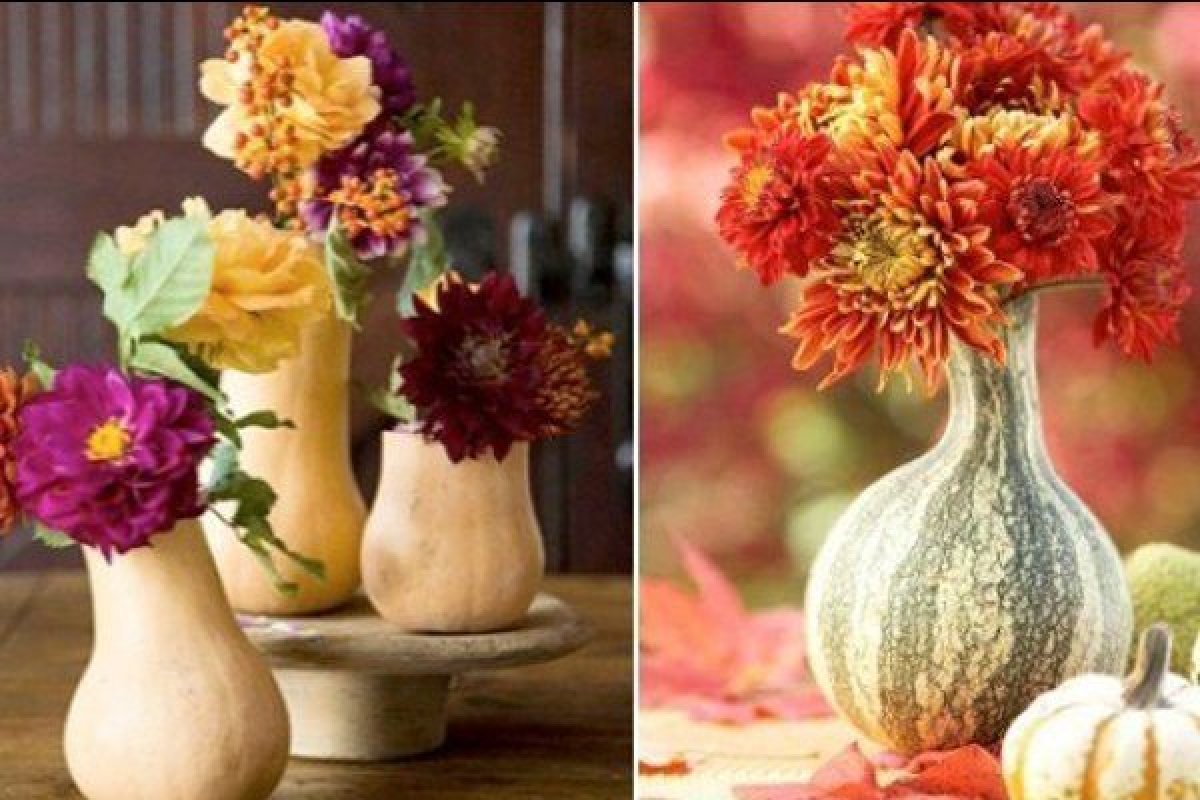 2. Choose the right flowers. Certain wedding flowers are more seasonal than others. Lilac, daffodils, and tulips are more "spring", for example, while certain hydrangeas and lisianthus might be more appropriate (and easier to find) for a summer wedding. For fall, choosing richer jewel tones is a good general start.Orange, coral, red, yellow, gold, bronze, or dark purple—all these colors can work well in a fall palette. Chrysanthemums, sunflowers, carnations, lilies, asters, zinnia, and dahlias are excellent choices. Our special picks: Bronze Fuji Spider Mums (only available in the fall, $2.49 per stem), and Bi-Colored Red-Yellow Roses ($1.39 each).
3. Add In the Autumn. Adding in some natural elements from the traditional fall landscape will take your wedding aisle decorations and centerpieces to "wow" levels. For a designer "fall" look, consider adding in some tree branches, sticks, or colorful fall leaves among the blooms. Glass containers or mason jars get a boost from mini gourds, unpopped popcorn kernels, burlap, or burgundy ribbon. And of course pumpkins, gourds, and apples are other go-to fall wedding touches. Use them inside clear containers, scattered among your centerpieces, or set up  along the aisle decorations. If you don't feel they are "fancy" enough for your wedding, use some gilt spray paint and make them gleam. Candles are always an elegant touch, and create an especially cozy feeling on a crisp fall day.
An easy solution is to select a professionally arranged centerpiece and simply insert it into your container of choice, have fun adding your autumn elements, and enjoy the rave reviews. Our centerpieces come fresh, blooming, and ready to use. Simply cut the stems to the appropriate length for whatever container you choose. Our picks (any of these would look amazing in a fall container):
Be inspired, get creative, and have fun!