The beautiful Candice Accola from the hit show Vampire Diaries married rock star musician Joe King of the Fray last Saturday October 18. We thought we'd share some details since the wedding photos and video were so gorgeous!
Candice, 27, and Joe, 34, met at Direct TV's Celebrity Beach Bowl in 2012 and were engaged in Florence in May 2013. Their wedding took place in New Orleans with friends and family in attendance, including Joe's two daughters from his previous marriage. Candice plays vampire Caroline Forbes on the CW television series, and several of her vamp costars joined her for the wedding, including Paul Wesley, Michael Trevino, Kat Graham, Claire Holt, Nina Dobrev, and bridesmaid Kayla Ewell. Ian Somerhalder couldn't make it, but Ian sent a message via Instagram from the Atlanta set where he was shooting:
""Candace and Joe- my brother, my sister. What a magical day this is for both of you. From the eye of the storm I am still with you in spirit! I am missing my home state of Louisiana and my city, the great city of New Orleans. Sending you so much love from my shoot in ATL- i'm working hard & I wish I could be there physically, but we have the rest of our lives to celebrate. I love you guys! So. Much."
Candice was stunning in a lovely strapless Monique Lhuillier wedding gown with an asymmetrical skirt, while Joe looked magazine-worthy in a Tom Ford tuxedo. The wedding took place at Montegut House in a romantic garden setting. Their reception was a dreamy affair with music and dancing. Love the trees, the vintage chandeliers, and all the candles– the whole New Orleans setting was perfect for a "vampire" wedding. (Think Brad Pitt & Tom Cruise, Interview with a Vampire). Love the black and white photos that the couple released also!
The happy pair also enjoyed a line parade along Bourbon Street in the French Quarter, a century old tradition in New Orleans. Candice held a pretty parasol and she and Joe were followed by happy guests and accompanied by a brass band.
Everyone clearly had a fantastic time at the wedding."Officially Mr. and Mrs. King! Best night ever!" Candice gushed on her Instagram page.
The pair released a sweet wedding video put together by Valare Imaginarium that shows more of the celebration, the wedding flowers, and Candice's dress. It captures the couple's wedding day from before to after the big event. Check it out here: Candice & Joe Wedding Video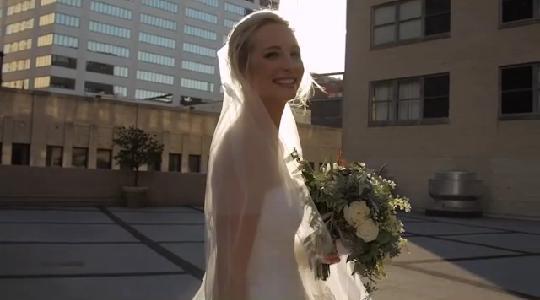 Now for the wedding flowers! In a clip from the video, we can see the lovely Candice in her veil and gown, holding a generous bouquet made up of mixed greenery and white roses. (When more photos are released hopefully we can get a better view of it!). If you love this look, here are some suggestions from Bunches Direct. Remember that all our bouquets can be customized! You can start with something like the Pure White, or Pure Passion bridal bouquets, then ask for more greenery, such as Seeded Eucalyptus, Leucadendron, or Ferns to create a more full look. You could also add some Queen Anne's Lace and white Allium to add to the natural effect. You will have a "vampire-worthy" wedding bouquet in no time!
We wish Candice and her rock star husband years of happiness together! (And we look forward to watching her on Vampire Diaries for many more seasons…)