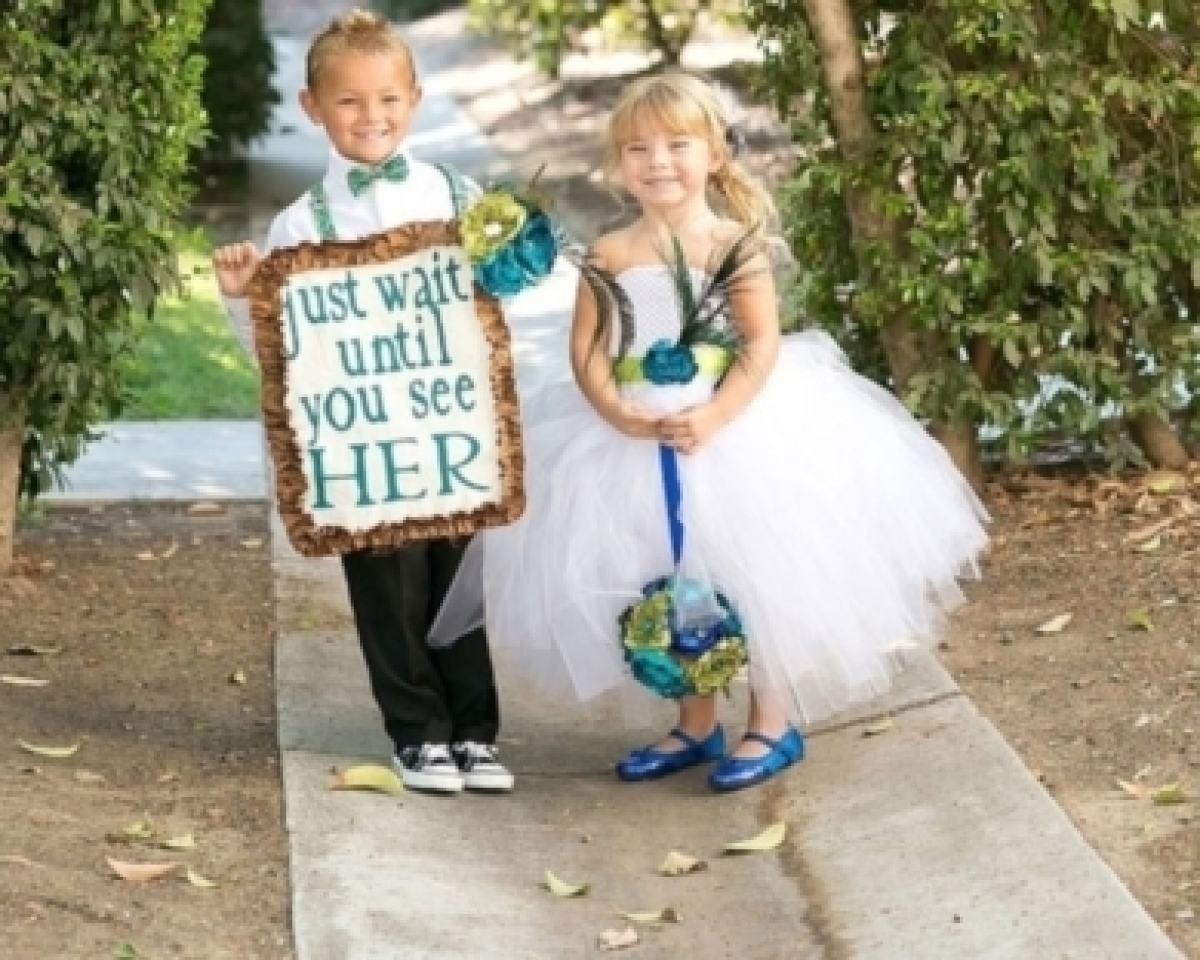 If anyone is going to share or possibly steal the spotlight from the bride, it could well be the flower girl or ring bearer. These sweet additions to any wedding party are often the ones the guests talk about after the ceremony. The tradition of flower girls has been around since ancient Rome, when girls carried sheaves of wheat to symbolize fertility for the new couple. Flower girls carried everything from garlic to cups in different eras and different cultures, but during Victorian England the more contemporary tradition of carrying flowers or flower petals was born.
But don't be limited by traditional thinking. There are many creative ways that still incorporate flowers and will make your flower girl or ring bearer have special impact as a little star in your very personal production.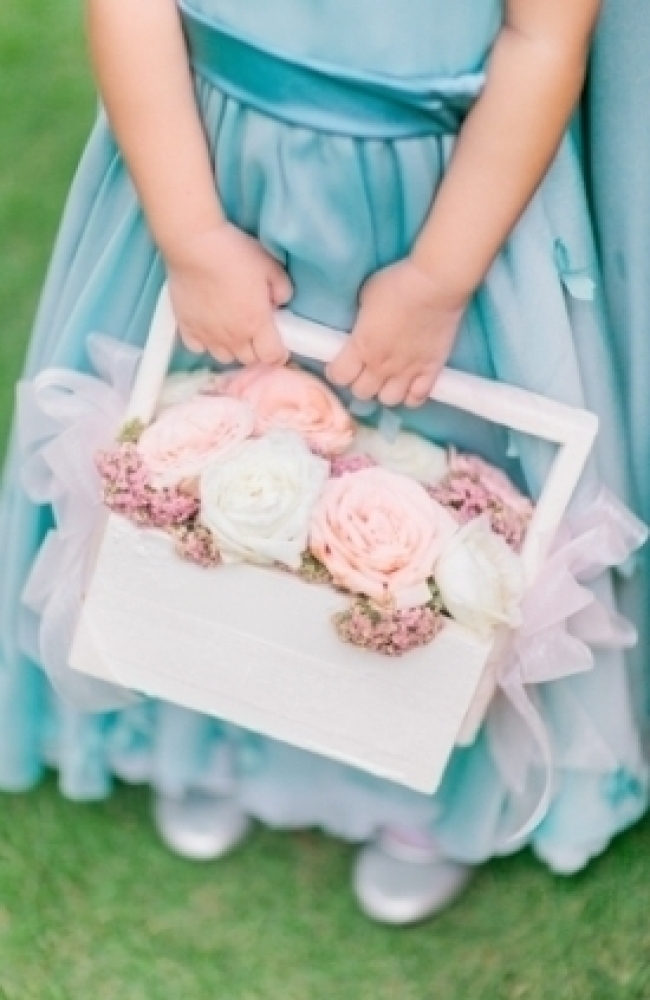 Have your flower girl carry the petals or flowers, but get creative with the holder. Mason jars with handles, woven baskets, painted wooden baskets, tin pails or buckets can all work beautifully. Bunches Direct also sells bulk rose petals in various colors.
Another amazing DIY idea is to create a flower wand using wedding flowers that coordinate with the ones in the bridal bouquet. (Your little flower girl will feel like a fairy princess.) Purchase the bulk flowers of your choice (check out the amazing variety of bulk flowers at Bunches Direct), a wooden dowel, floral ball, ribbons, and glue gun. Wrap and glue the ribbons to the dowel, and tie added lengths of ribbon to trail off the end of the rod. Affix the dowel into the ball. Glue on the flowers of your choice.
Another idea is to have your flower girls carry pomanders ("kissing balls") or pretty floral wreaths instead of petals or bouquets. This is another potential DIY project and sometimes the pomander is easier for little hands to hold onto. Check out DIY Pomanders on Youtube from BunchesDirect
Another sweet option is to decorate a pretty parasol with flowers (get out the glue gun again.) Signs, flags, or pennants can also be decorated with flowers and can add a super cute touch. If you have multiple flower girls or ring bearers, you can have them hold individual signs that say "Here" "Comes" "The" and "Bride", for example. What a nice prelude to the bride's big entrance!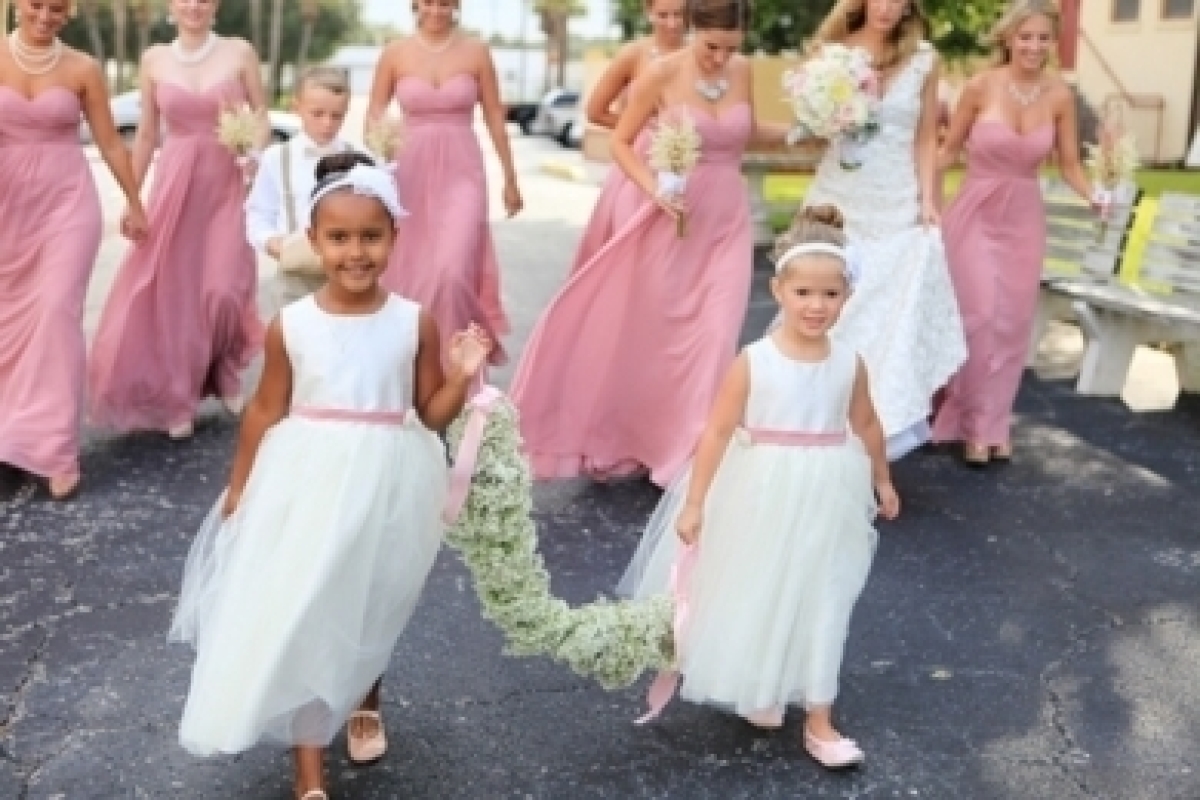 For yet another idea, have the flower girls carry a floral garland as another option. This is an easy DIY option using bulk flowers!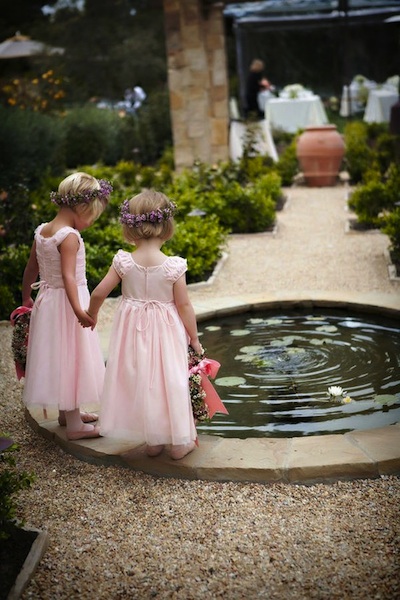 Of course flowers are the ultimate hair accessory for your lovely little flower girls.
The go-to accessory is a gorgeous floral crown, though you can also attach flowers to headbands, bows or barrettes for some unique and memorable touches.
Are pets going to be part of your wedding ceremony? This is a growing trend, so you can always have the flower girl help out with Fido. Gluing flowers to a leash is an easy way to make it a prettier presentation.
There are other creative ways in which your flower girl can help with the ceremony. Perhaps have her carry a special note to the groom, right before the bride comes down the aisle. She could also carry a special box decorated with flowers that contains the vows. Once the wedding is over, the box will become a special keepsake in which to store your vows (in case you need to refer to them later).
If you choose to have flower girls, there is little doubt that they will be a special part of your big day. They will be thrilled to be included in the celebrations and inspired by all the special touches. And the practice they get walking down the aisle might be put to good use one day when it's their turn to be the bride. Feel free to share some photos of your own flower girls or ring bearers! I'd love to see them at [email protected]