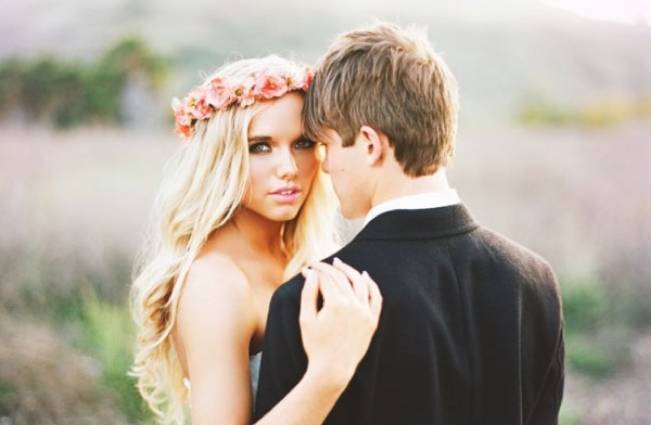 There is little that is more romantic for a wedding than a beautiful floral crown for the bridesmaids or flower girls. For years this was a traditional and very feminine hair adornment with a long history of use for special occasions such as pageants and ceremonies. Today, floral crowns are still a popular wedding flower accessory that have seen even more resurgence recently.
Celebrities such as Anne Hathaway and Kirsten Dunst have rocked floral crowns for varied occasions.
More recently, both Ashley Tisdale and Audrey Roloff both wore beautiful floral crowns in their own celebrity weddings. This is an ultra-feminine look that suits a variety of venues and themes, that can work with "bohemian chic," as well as "fairy tale romantic."
If you want to use floral crowns in your own wedding, they are an easy DIY project using a variety of gorgeous bulk wedding flowers and basic floral supplies.
You will need: Thin green florist wire, thicker grapevine wire, sharp scissors or wire cutters, green or brown florist tape, greenery of choice, flowers of choice.
Fresh flowers look amazing in floral crowns, and your wedding is a special day. You can find a variety of wholesale bulk flowers plus excellent and low priced floral supplies at Bunches Direct. Many varieties of flowers will work, but we especially love roses, spray roses, ranunculus, lisianthus, daisies, lilies and baby's breath for wedding flower crowns.
1. Wrap a section of the thicker grapevine wire around your head, and allow for an added two inches. Cut the wire and then twist the extra wire back onto the main circle to secure it. Use some floral tape to cover the ends and prevent any scratching or loosening. This is now the circlet base for the flowers.
2. Lay your circlet on a table and start planning your crown. You might want the larger flowers all at the front, with sizes of flowers tapering away on either side, a mix of large, small and medium, or an evenly staggered arrangement of blooms. Decide on an approximate "look" for your crown by setting various flowers and fillers out now, to save you time and frustration later.
3. Cut the stems of the flowers to approximately two inches. If you want a very "full" look for your crown, it often works best to group small bunches of flowers and filler together to form mini "bouquets". Use the thin florist wire to wire the elements of the bunches together. Then you can use the wire to start attaching the bunches (or individual flowers, if you prefer) to the grapevine circle.
4. For the heavier flowers, you may want to put a wire through the center of the bloom. Form a small hook, then pull the hook back in to the bloom. This will allow you to attach this flower more securely to the crown.
5. Be sure to use adequate filler (such as greenery or baby's breath) to fill in gaps. Keep the flowers pointing in the same direction, and facing outwards. Keep working until you have the look you want. Try on the crown frequently to see how things are looking.
And that's it! You can make these the day before, but store in the refrigerator until needed. You will have a stunning crown of fresh, blooming flowers to wear with pride on your big day. This is a beautiful touch for any bride, bridesmaid or flower girl that is sure to be the talk of the guests.