Every year, the Pantone Color Institute picks a color that they predict will be the biggest of the year. This means that based on current trends and indicators they feel that this color will have a big impact on fashion, beauty, housewares, home design and consumer packaging. The 2014 pick was Radiant Orchid, a rich jewel toned fuschia, and in 2013 the pick was Brilliant Emerald.
The pick for 2015? An earthy, brownish-red hue called Marsala after the wine that inspired it. This color is described by Pantone as being "a naturally robust and earthy wine-red," whose "impactful, full-bodied qualities make for an elegant, grounded statement color when used on its own or as a strong accent to many other colors."
What do color experts think of Marsala? "It's nice, but it surprises me," says color consultant Jean Molesworth Kee, owner of the Painted Room in Alexandria, VA.. "We have been veering from red or burgundy wall colour now for years. This has a dusky, earthy quality." Kee says she could see Marsala used in "an ethnic bohemian place." She added, "It's muted and it reminds me of Morocco or of faded old Oriental rugs. It would go nicely with warm, sandy colours and browns."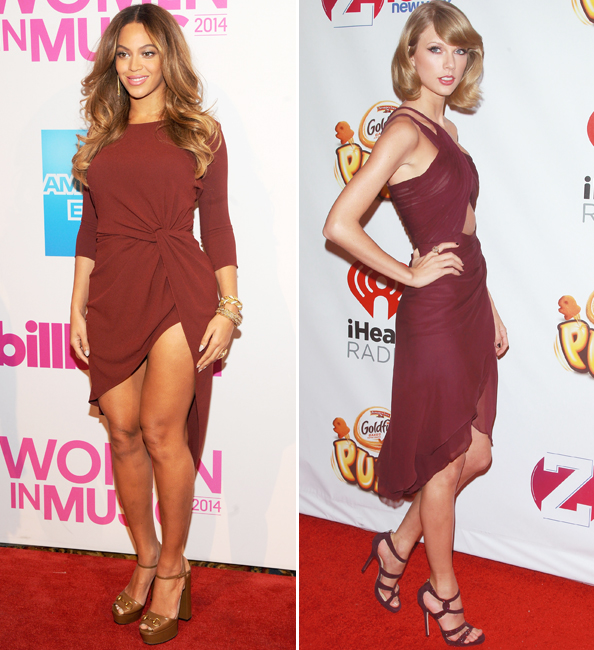 Celebrities like Beyonce and Taylor Swift are already embracing Marsala in fashion.
If you want to stay on trend with your 2015 wedding, consider using Marsala! It would make an excellent color for bridesmaid dresses. It would pair well with the guys in beige, warm gray, brown or black suits, and could be used in their ties. (For a tie example using Marsala, check out this one from Michael Kors.)
It could also be used in event linens such as napkins or tablecloths, or perhaps in backdrops or accessories at the venue. Marsala can also be incorporated into wedding flower color schemes as well, either by selecting flowers of a similar tone or a coordinating color mix.
As a general guide, Marsala goes well with neutrals such as warmer taupes and grays, umber, creamy beige, blue-grays, dark browns, or blacks. It would also look great with brighter hues like turquoise, bright yellow, or certain shades of pinks. Overall it's a stable and versatile shade and will be flattering to many people.
Here are some suggested wedding flower color palettes, with bouquet picks from Bunches Direct that would look great with Marsala. Happy Wedding Planning!
1. Marsala with cream or ivory wedding flowers
2. Marsala with blue wedding flowers
3. Marsala with wedding flowers in shades of pink / peach
4. Marsala with yellow wedding flowers