If you are a savvy DIY bride, you know that you can order up some of the freshest and most beautiful bulk flowers from Bunches Direct. But have you explored ideas for what to put your flowers in? Don't be limited by the traditional clear glass vase. If you get creative with the container for your wedding or event flowers, you can add a lot of "wow" factor and the kind of impact that will really get your guests talking (in a good way). Your choice of container can create a unique or personal touch for your event tables, set a mood, or help embellish your theme if you have one.
We've gathered some pics of very creative containers to inspire you, and included some of our flower suggestions to go with them. Enjoy!
1. Boho Chic Wedding
Birdcages are a sweet and creative way to display your flowers! Choose a pre-made centerpiece from Bunches Direct, such as the Big Day or Subtle Beauty Centerpiece, or buy your flowers in bulk for a great DIY project. Roses, spray roses, hydrangea and lisianthus would be great choices!
Set up vintage chairs around your outdoor venue and add bulk flowers or a ready-to-go centerpiece bouquet for an amazing touch that is sure to get noticed.
2. French Wedding
Use vintage French-themed tins or wooden crates to provide that old world feel to your wedding. Try Oh Lola or Bygone Glamour Centerpieces from Bunches Direct to complement this look. Or, buy bulk peonies (seasonal) as shown in the photos.
3. Traditional Wedding or Bridal Shower
Blue and white china in a classic pattern lends instant traditional elegance to your tables. Use teacups or teapots for  creative way to display flowers at a wedding– also perfect for a bridal shower. Try Sweet Heaven, Champagne Romance, or Wild at Heart Centerpieces to complete this look.
4. Rustic Wedding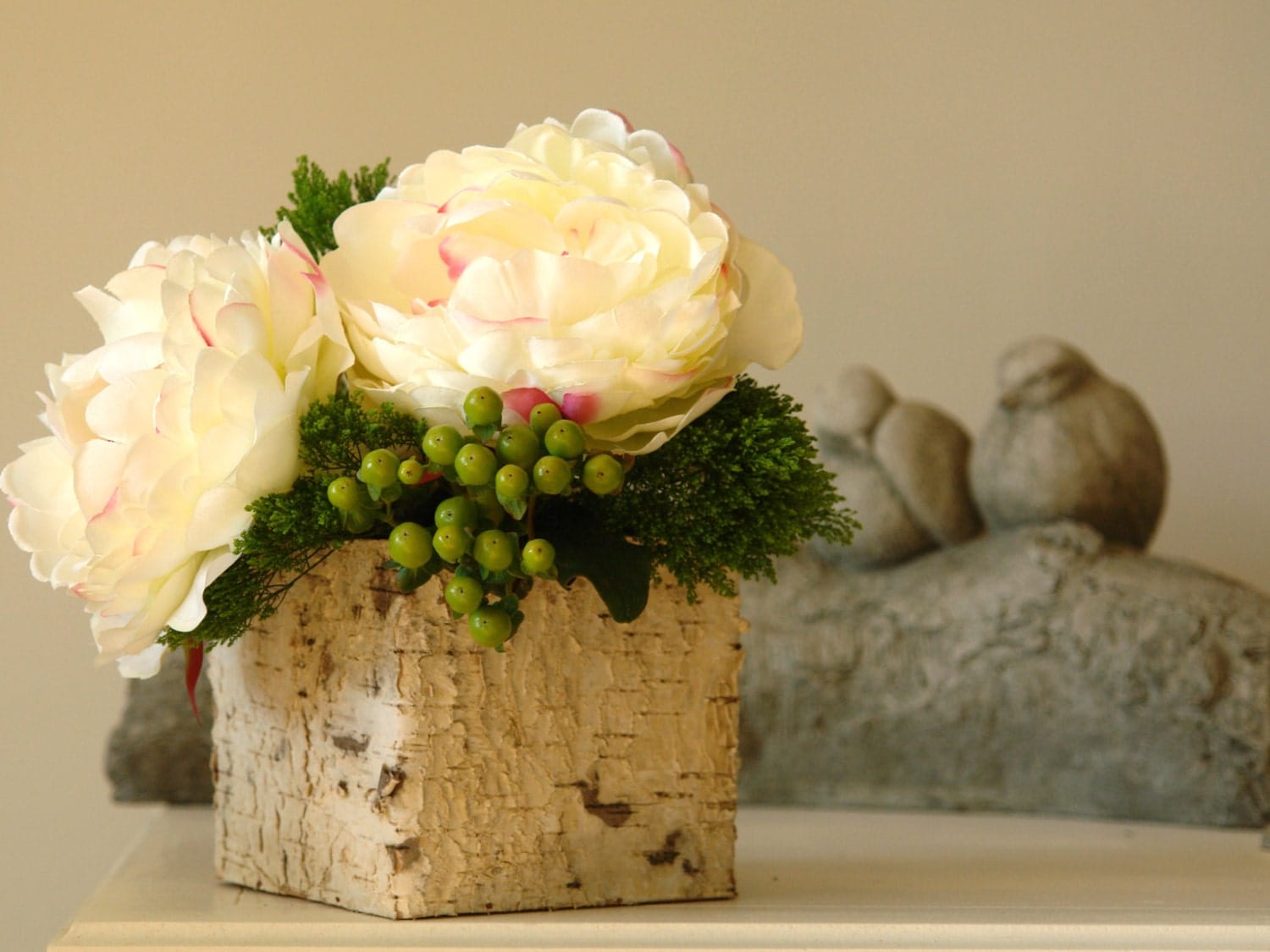 Wrap inexpensive dollar store vases in birch bark or burlap, or glue on birch sticks, to create a beautiful rustic look for your centerpieces.
4. Guest Favors
A creative take on guest favors might be to collect a variety of small vases or bottles to display your bulk flowers. Use them to decorate the table, and tag them so that guests can take them home. Or, tag them and use as place cards.
5. Flower and Candle Combos
Find clear vases or wine glasses that will also hold a floating candle to create very inexpensive and elegant centerpieces that will suit a variety of themes. Buy bulk flowers such as gerberas, lilies, orchids, roses, or carnations to float in the vases. For more info on how to create submerged floral arrangements, check out our how-to video!
6. Budget Bride
Recycle old wine bottles or other bottles for a great way to display your flowers! You can also wrap or spray paint the bottles if you want an elegant look–makes great DIY project. Try the Alluring Gerbera Centerpiece for a great earthy look to complement your wine bottles.
Get inspired and give your wedding flower containers a little extra attention, and you are sure to create some memorable displays!