As most of you know, Preston Bailey is one of the top wedding and event planners in the country, if not the world. (If we were to describe him in fancier terms, he is known as a "master event planner and floral couturier" according to Amazon). He is renowned for creative, over-the-top designs and his ability to transform even very ordinary venues into lush, theatrical spaces.
His client list includes celebrities, royalty, Fortune 500 CEO's and athletes, with famous notables such as as Oprah Winfrey, Ivanka Trump, Joan Rivers, Jennifer Hudson and Catherine Zeta-Jones entrusting their special events to him.
He has written six books, five of which are bestsellers. His latest offering is entitled Preston Bailey: Flowers and it is a must-look if you are seeking amazing inspiration for your wedding or event flowers. The book is full of "eye candy" photos demonstrating some of Bailey's most creative floral designs, from floral sculptures, centerpieces, arches, and lush tablescapes. The book also includes fascinating anecdotes from various celebrity events which also make for entertaining reading.
While there admittedly aren't many of us who can afford the price tag of a Preston Bailey design, we can definitely flip through the pages of this stunning book and derive some tips and ideas to implement (in smaller scale) at our own venue. As Bailey himself states, "Regardless of its size or complexity, the perfect floral arrangement is the one that makes you stop for an instant and smile with surprise and delight." We've gathered a few of the highlights for you to enjoy, with some BunchesDirect comparables. Enjoy!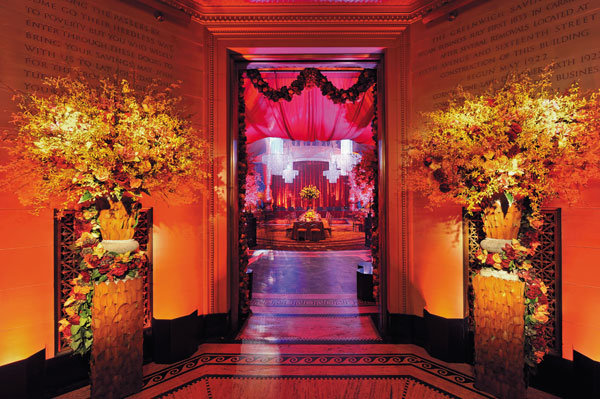 Don't forget the entrance. According to Bailey, this important area sets the tone for the entire event. Be sure to include some flowers or other decorative elements to embellish this area and any tables that are set up here. Some beautiful blooms in a vase is a simpler but very effective way to welcome your guests.
BunchesDirect has ready-to-go floral arrangements starting at only $15.95 US —you simply trim the stems to fit your vase and voila, enjoy the perfect look.
Don't be afraid of vivid color combinations to create a lot of drama and impact. Yes, pink, red, and purple can go together. If those are colors you love, don't be afraid to buy bulk flowers and create your own combination. If you love a vibrant mix of colors, you will love Heavenly Festival or Vibrant Blast bridal bouquets from BunchesDirect.
Get creative. The flowers can be part of the vase too! Shown here, Bailey created a vase covered with rose petals and filled with alstroemeria, both available in bulk at BunchesDirect. What a fantastic, and fantastically simple, DIY project!
Anything is better when covered with fresh flowers. Bailey himself admits, "I would decorate anything and everything I could get my hands on with flowers if I could." The good news is that if you buy wholesale bulk flowers, you can get creative and still manage the budget.
Take note of these amazing Preston Bailey suggestions and get creative at your own wedding or event!