All of us were surprised (and most of us delighted) by the news that Jennifer Aniston and Justin Theroux had finally tied the knot. The pair made things official in the backyard of their own home on August 5, 2015.
Every tabloid featured regular posts about the couple's status, telling us that they were already married, about to be married, planning their wedding, having a baby, breaking up, reuniting, holidaying or other such updates. It's little wonder that Jen and Justin decided to dupe the paparazzi and media and host a secret ceremony.
They managed to keep it secret from even their closest friends, with Jennifer saying "where there's a will, there's a way." They pulled off the surprise by telling guests they were coming to a birthday party for Justin. They managed to hide the preparations by renting out a nearby mansion and ferrying items over to their home with discreet trips and cover of trees.
Guests included close friends such as Courtney Cox, Ellen DeGeneres, Howard Stern, Lisa Kudrow, Chelsea Handler, and Emily Blunt among others. Jimmy Kimmel officiated. The backyard was set up with multiple tables and backless chairs, featuring romantic lighting in trees with candles on the tables. Their cake was topped by a funny Muppet version of the couple.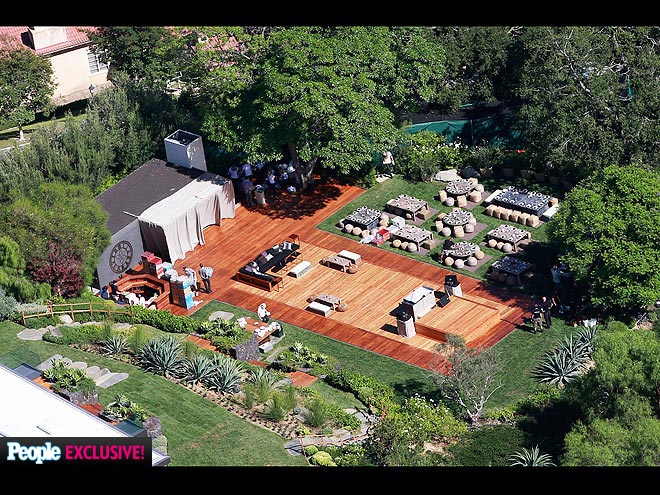 News broke that Jennifer wore an $8400 Mark Zunino gown when one of the consultants on TLC's Say Yes to the Dress let a comment slip, but we are still waiting for more photos and official confirmation as to what Jen wore.
The outdoor celebration lasted late into the night. The couple then departed on a romantic honeymoon at the Four Seasons resort in Bora Bora.
We did get a better look at Jennifer's wedding ring as she cruised the red carpet for the premiere of her new movie She's Funny That Way in Los Angeles.
Jennifer looked glowing and relaxed in a Roland Mouret jumpsuit. Her wedding ring features two bands of gold with a row of diamonds between, in a simple but elegant presentation. What do you think of it? Justin was spotted with his own gold wedding band in place (good man) at LAX earlier in the week.
Jennifer stated that she is "deliriously happy" to be a newlywed after her three-year engagement. We wish them all the best…and we can't wait to see more photos of the flowers! Our picks for Jen and Justin? A Dreamy Cloud or Simply White bridal bouquet would perfectly suit Jen's sleek, simple elegance.