Hosting an all white wedding is a popular theme that is growing in popularity. The white-on-white wedding is an elegant and modern trend that is timeless and always in style. Though suitable for any season, it is especially appropriate for a winter wedding.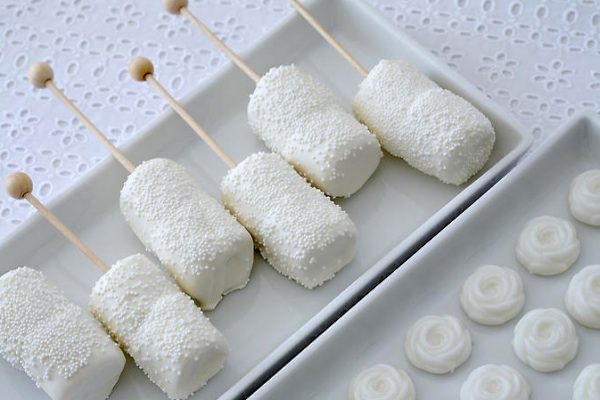 Brides wishing to have an all white wedding can start with classy white invitations to set the theme. Use white linens and clear crystal candelabras for tables, or pair white with either gold or silver. Place white candies at a dessert bar or give away as wedding favors.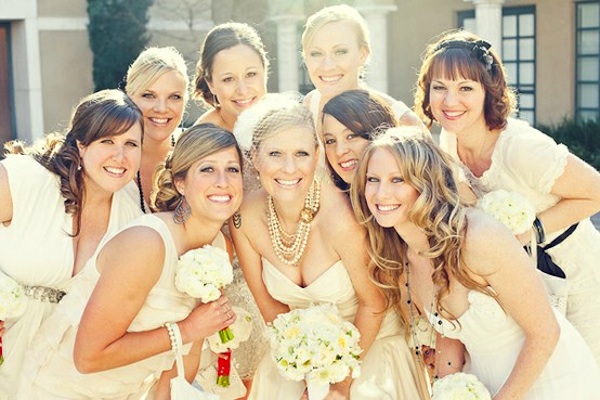 If you are brave enough, you can even put the bridesmaids in white. (If you are really going to get immersed in the theme, you can even ask your guests to wear white.)
For celebrity decorating inspiration we can look to Ivanka Trump's amazing 2009 wedding to publisher Jared Kushner. The wedding took place at (where else?) Trump National Golf Club, with the reception held in lavish white tents. The design genius behind the wedding decor? None other than event planner extraordinaire, Preston Bailey.
Long tables were set with a fairytale Venetian flair, white paired with (what else for a Trump?) gold. The flowers were a spectacular array in all white, including lilies of the valley, hydrangeas, orchids, ranunculus, roses and gardenias. The first tablescape featured white ceramic topiaries filled with lush bouquets of roses and hydrangeas. Floating gardenia blossoms in ponds graced the second tablescape, and for the third, Bailey created towering custom-made crystal candelabras, topped with masses of blooms and white pillar candles.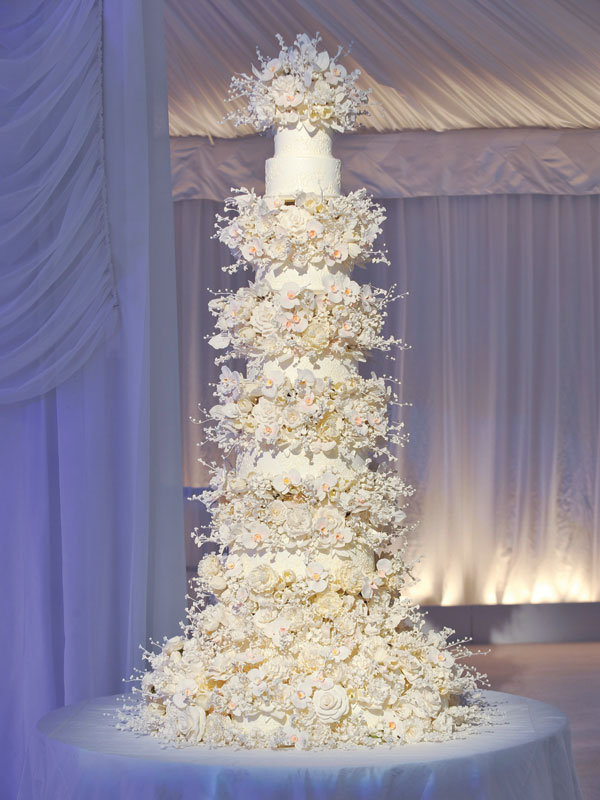 For a successful white-on-white wedding that is dramatic instead of dull, texture and layering becomes very important. For table linens, consider using a patterned as opposed to a smooth fabric. Light projections that move or change can also help keep things looking fresh and dynamic. The flowers are a hugely important element as they will be a central focus. Try mixing varieties and incorporating high and low elements with candles for greater impact and interest. Flowers can also add the needed flair and dimension to an all white layer cake. (Ivanka's cake was pretty spectacular…!)
For wedding bouquets and cake toppers, there are a few amazing choices, all available at www.bunchesdirect.com, www.bunchesdirect.ca, or www.bunchesdirect.com.au. Bunches Direct also sells bulk flowers in white, in a amazing varieties, for the D.I.Y. wedding crowd.
Some wedding bouquets to try: