Always a Bridesmaid, but now a BRIDE! You had your turn at being bridesmaid at assorted weddings of friends and families. Finally, you are the bride! You get to be in charge. And you get to learn from the challenges of the past…like wearing a truly heinous bridesmaid dress down the aisle.
Okay, so we've all been there. We are asked to be a bridesmaid in a friend's wedding, and it's an honor and it's supposed to be fun. We go dress shopping. Things get decidedly less fun. The bride has distinctive tastes and you end up with a disaster of a dress that makes you look like a reject from a bad 80s musical.
It's not that uncommon. Even Hollywood has played off this theme, in movies such as 27 Dresses, Bridesmaids, and Confessions of a Shopaholic. Many of us have one, or maybe like, five, such offensive garments lurking somewhere in the back of our closets. Maybe we keep them so we don't feel like the money we just spent on this ugly dress (not the mention on the ugly matching shoes) was completely wasted, we don't want to insult the bride, or we feel we are going to re-purpose the thing somehow.  Maybe re-design it so that it is actually wearable in sane society, or use it for other occasions (Hallowe'en costume, painting the house, scaring off a bad date, need for curtains, etc.)
So why does this happen so much? You might even suspect closet sabotage so that the bride will look even better, or perhaps she really doesn't like you. (Is she getting you back for that time you borrowed her best heels to wear to a club, danced for five hours, walked home in the rain, then tried to sneak them back into her closet?)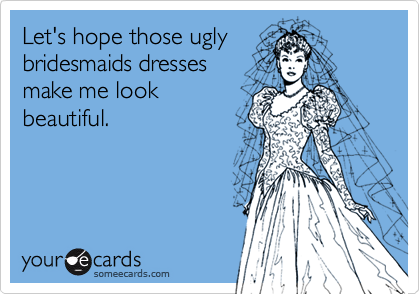 And why do we wear these less-than-flattering creations? Realistically, there isn't a lot of choice. A bridesmaid can try to voice her concerns to the bride (with extreme tact and diplomacy), but if the bride gets upset? Suck it up, and wear the bridesmaid dress.  It's the bride's day, and it's the job of the bridesmaid to support her before and during. If that means flaming orange satin with royal blue trim, then so be it. And also, chances are you truly care about the bride and want her to be happy, so what's a little gold satin between friends?
Of course, now that it's YOUR turn to be the bride, you will select dresses for your bridesmaids with kindness and the very best taste…and you can have your fun showing off the bad bridesmaid dresses you endured from the past!
Yes, ladies, it's the Bunches Direct UGLY BRIDESMAID DRESS CONTEST!  We are looking for photos or videos of the ugliest bridesmaid dresses of all time. Send your photos to me, Sue, at [email protected], along with a short description of the event. Be aware that photos or videos will be posted on our Bunches Direct Facebook page, the blog, and our other sites. BEST PHOTO OR VIDEO (i.e. Ugliest Dress) WINS A $500 SHOPPING SPREE AT BUNCHES DIRECT!! Yippee! Free flowers for your wedding!
Contest opens TODAY, and contest closes on SEPTEMBER 17, 2014. Good luck!
(And see, you were right: there really was another use for that ugly dress!)
Terms & Conditions
1. By submitting your story and/or photos, you agree that they become, as submitted, property of BunchesDirect, and allow BunchesDirect to post your submitted materials publicly on Bunches Direct media sites.
2. Please include "Ugliest Bridesmaid Dress" in your subject header.
3. The ugliest dress will be determined by a panel of BunchesDirect employees, who will take the Facebook likes and responses into account.
4. DEADLINE FOR ENTRIES is Wednesday September 17, 2014 at 11:59 p.m. Eastern Standard Time.
5. The winner receives a $500 gift card to use at BunchesDirect.com or BunchesDirect.ca for the purchase of any flowers of their choice. One entry per bride please. Winner may not combine their gift card with any other discount/promotional offer.
6. Contest open to residents of the United States/Canada.